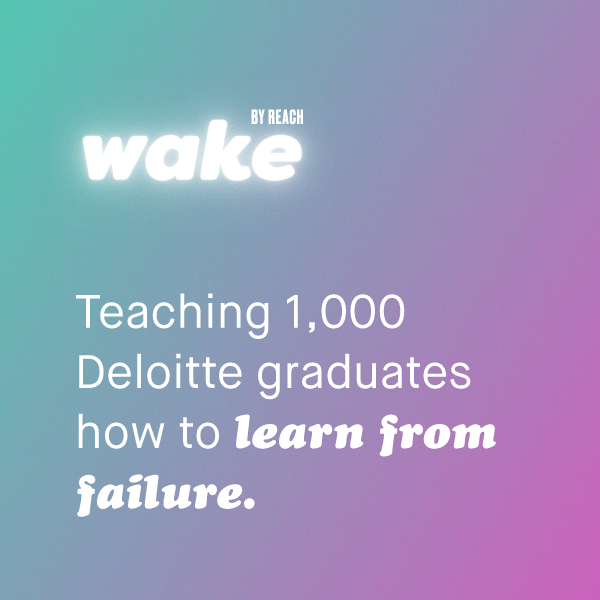 Wake by Reach: Teaching 1,000 Deloitte Graduates How To Learn From Failure
One of Wake's specialities is their work with graduates – fresh out of uni and entering the workforce proper. A pretty intense time.
5 years ago, they worked with Deloitte to understand the needs and of their graduates and the business, and tailor-made a workshop called 'Understanding You'. Deloitte have engaged Wake to run it every year since. But this year – this was their biggest and best yet.
Wake by Reach revamped the design and content of the graduate workshop and took it on the road – delivering the workshop to over 1,000 graduates in 6 states!
While still focusing on how the graduates can bring their best and whole selves to work, Wake expanded the objectives of the program to include improving the cognitive agility of the participants. This is stuff like: improving their adaptability and perseverance, creating psychological safety, reflecting on moments of failure and what they teach us, and how to develop and sustain a growth mindset.
The results 
Wake get everyone to complete a survey afterwards, where the participants are given statements and indicate whether they agree or disagree.
Here's some of the results:
This workshop allowed me to build confidence in acting courageously and stepping out of my comfort zone – 90% agree/strongly agree with this statement
This workshop helped me explore a growth mindset when confronted with challenge or change – 95% agree/strongly agree
This workshop allowed me to gain an understanding of the tools and strategies I can adopt when facing ambiguity or a challenging situation – 84% agree/strongly agree 
The facilitators were engaging and knowledgeable – 98% agree/strongly agree
The participants also get them to write down their thoughts, here's a couple of them:
"Being able to introspectively reflect and practically exercise skills in interpersonal communication, courage in speaking out, handling issues in the workplace and self-development. Having hands-on involvement, sharing our personal experiences and having direct engagement with my colleagues made the workshop especially memorable" – Deloitte Graduate, October 2019
"My highlight was being able to explore different ways and ideas of how we can approach challenges and experiences that we may face in both work and life." – Deloitte Graduate, October 2019
Wake by Reach is a social enterprise that delivers workshops, keynotes and experiences for adult audiences. Underpinned by the same methodology that makes Reach so successful. All profits go towards The Reach Foundation.
Learn more here: wakebyreach.com.au and see how Wake can bring your workforce to life in 2020.