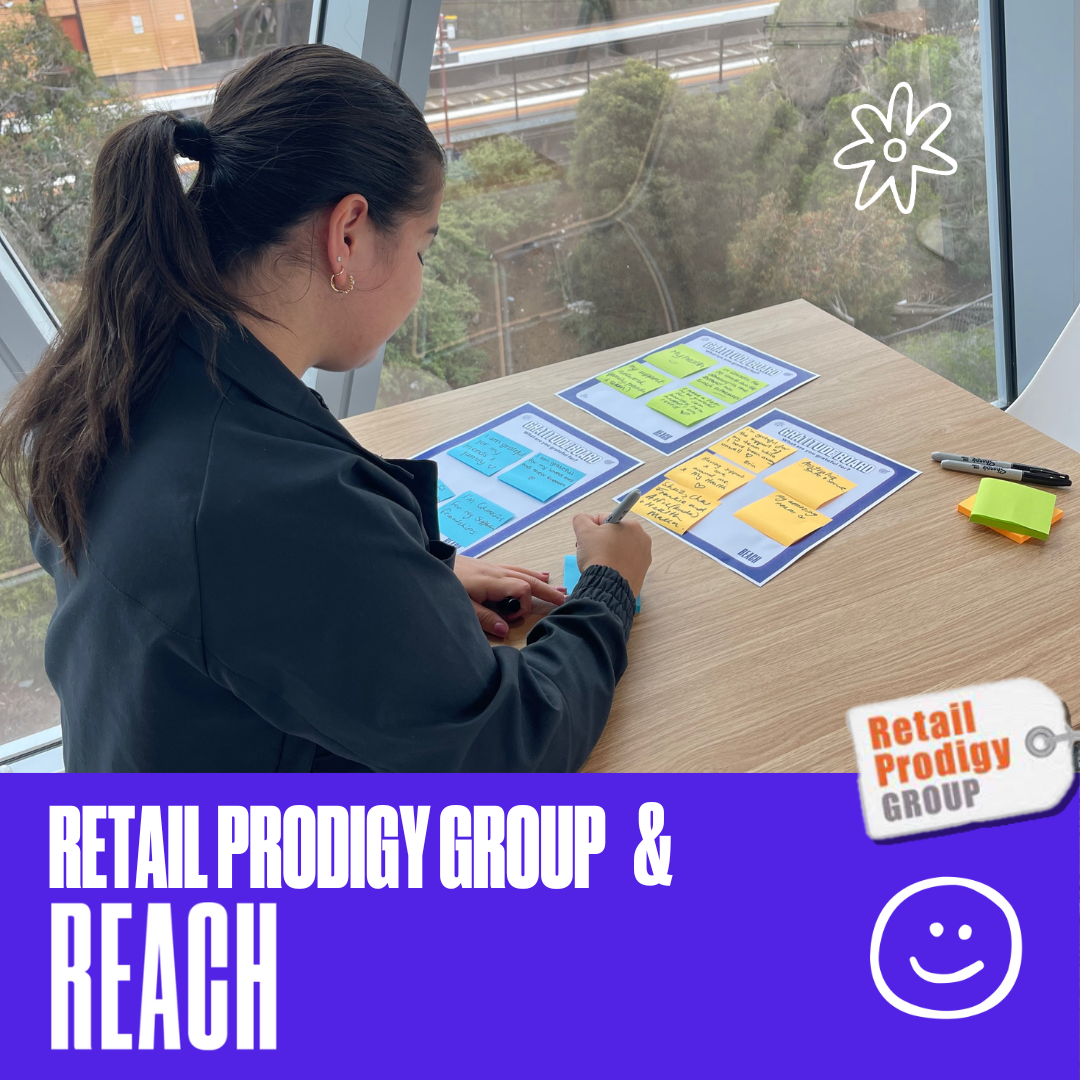 RETAIL PRODIGY GROUP PARTNERS WITH THE REACH FOUNDATION!
RETAIL PRODIGY GROUP (RPG) PARTNERS WITH THE REACH FOUNDATION (REACH) TO SUPPORT THE MENTAL HEALTH AND RESILIENCE OF YOUNG PEOPLE THIS MENTAL HEALTH MONTH.

RPG and Reach are excited to partner together this mental health month to continue to drive conversations and inspire action that promotes the mental health of young people all around Australia.
During the month of October, we will be joining forces to implement a variety of health promotion activities and initiatives for RPG's staff and the young people that Reach supports to connect with daily.
"Aligning with RPG was a no brainer for us here at Reach as we understand and advocate their values. We are so excited to start working with the RPG team during mental health month and ensure we are furthering the awareness, positivity, and care into their staff's daily lives." Reach CEO Louisa Keck
Retail Prodigy Group are guided by 5 key Values, Care, Coach, Energy, Accountability, and Innovation. As part of their Care value, RPG have been focused on their contribution and impact with their Community & Belonging Pillar, which is why this partnership is such a great fit.
Stephen Younane CEO and Co-founder at RPG has said "This is very important work, so we reached out to all our RPG employees to understand more about the community issues and charity initiatives that matter the most to them. Our RPG employee's voice was loud and clear that we partner with organisations with a focus on Mental Health".
Reach became a natural fit for RPG to partner with since their focus is on "Unlocking the power of young people so they can shape their own lives".RPG is excited and very proud to be able to partner with Reach in making a difference in young people's Mental Health.
About The Reach Foundation
The Reach Foundation is a not-for-profit organisation dedicated to inspiring young people to be themselves and to build better connections – with themselves and others. There are currently over 4 million young people living in Australia and Reach works with over 40,000 of them a year. The Reach Foundation invests in young facilitators to design and deliver transformative experiences for young people. Reach workshops are 100% led by young people. They design it and deliver it. They're armed with the kind of insight only a young person can truly grasp.
About Retail Prodigy Group
Retail Prodigy Group (RPG) is the "direct to consumer" Retail partner in Australia/New Zealand for Global Brands, NIKE, SAMSUNG & MATTEL. RPG has 42 Nike Stores across ANZ, 11 Samsung Stores across Australia and more recently operates the Mattel Australia Online Store showcasing their portfolio of iconic Brands including Barbie®, Hot Wheels®, Fisher-Price®, and Thomas and Friends.
www.retailprodigygroup.com