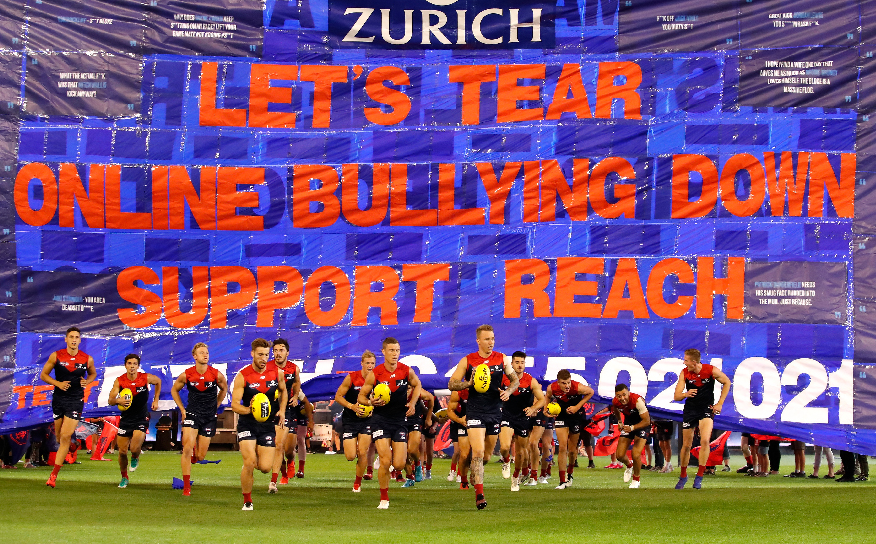 The Round For Reach 2019: Recap
Once a year we get to team up with Melbourne FC who dedicate one of their games to Reach. The players get involved too. They talk about our work and help us fundraise at the game.
It's a lot of fun and really helps us spread awareness of Reach. But this year, we wanted to do something special.
In early 2019, AFL players had been hit by more and more attacks online by members of the public. Especially their "fans".
Sports psychologists were telling the players to stay off social media.
It was affecting the players, their families and the culture of the game.
This is an issue young Australians are dealing with too: online bullying.
More than 1 in 5 young Australians are bullied online.
We hear about it all the time in the workshops we run.
So we wanted to send a message:
If this kind of stuff is affecting players, think about the impact it's having on young people, who may not have the tools, skills and support to cope.
We built a banner of real, cutting comments that the players themselves had received online, for them to run through at the start of the game.
The banner read: Let's Tear Online Bullying Down.
In the lead up we launched this video and the story just took off:
It was picked up by just about every major newspaper in the country.
Heaps of huge online publications too.
Our crew absolutely smashed it in interviews on Channel 9, Channel 7, ABC News24, Triple M, and ABC News Radio.
It dominated social media, and we are so proud to have been a part of spreading something positive in a place that can be all too negative.
All up, we got a lot of media attention, our message reached millions of people, we helped construct one hell of a banner & we raised over $54,000!
But what's important is the impact.
Have we stopped online bullying? Of course not.
Have we forced people to think twice about their comments? Definitely.
Thank you to everyone who donated, shared, and got behind the campaign.
You have given this cause the attention it needs to be solved and for that we are so so grateful ????