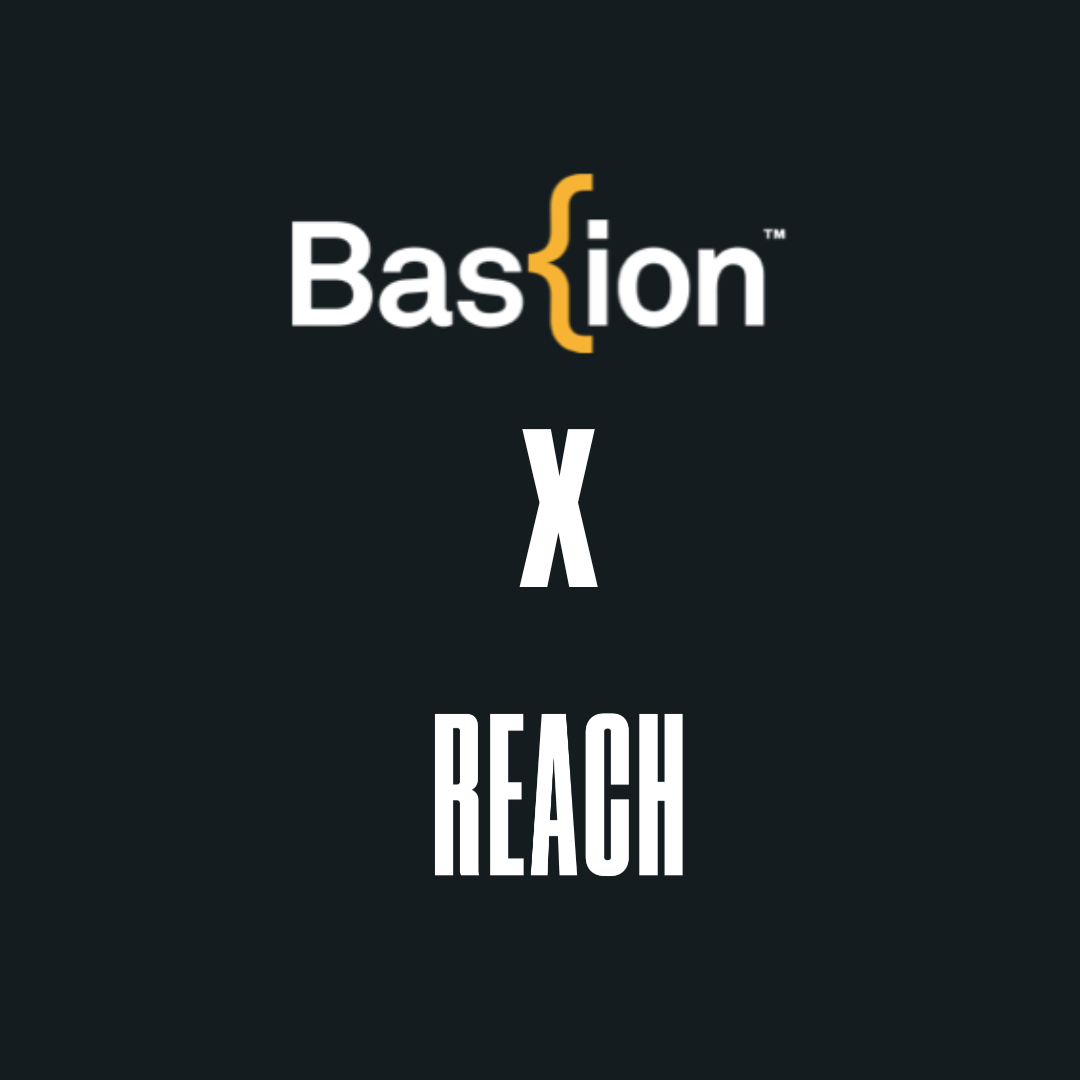 Reach x Bastion Partnership
BASTION PARTNERS WITH THE REACH FOUNDATION TO SUPPORT YOUTH MENTAL HEALTH AND RESILINECE, AND PROVIDE TRAINING TO BASTION EMERGING TALENT
Partnership provides new support while bringing Reach Crew into agency environment to build expertise
Australasia's largest independent marketing and communications agency Bastion is taking an important step in supporting the wider community and furthering its commitment to supporting the mental health of junior staff by partnering with not-for-profit The Reach Foundation.
The partnership will see Bastion donate 1% of its annual Australian profits to Reach and provide access to agency workplace experience to Reach Crew team members, including an internship and mentorships with access to senior Bastion staffers across the business in Australia for the duration of the partnership. It will also see important social and emotional resilience training to all Bastion team members under the age of 30, facilitated and delivered by Reach.
"The partnership with Reach Foundation is something extremely close to my heart. Reach has been a part of our family since my brother and I were teenagers, and Reach were the very first Bastion Clients 13 years ago," says Jack Watts, Group CEO Bastion.
"This partnership brings that full circle as not only have we been able to support Reach, they are supporting our emerging talent at Bastion by building a Reach Resilience training course for all our young staff," Jack Watts adds.
The mutually beneficial partnership will operate for an initial two year period, beginning in October to coincide with this year's Mental Health Awareness month.
The training will provide the tools necessary to help early career Bastion staff members be as resilient as possible in the workplace, whilst also acknowledging the importance of emotional intelligence and having open and honest conversations in an agency environment.
The partnership includes:
• Resilience training for staff under the age of 30 across the Bastion agency, conducted by Reach crew
• Internship placements at Bastion for members of The Reach Foundation
• Bastion mentorship program for one Reach crew member, who will have access to four senior Bastion executives or staff members across the various Bastion businesses
• Media training for Reach, conducted by Bastion Reputation
"Addressing youth mental health and resilience is one of the critical issues of our time. It is an absolute honor to partner with the Reach Foundation to support them in their mission to unlock the power of young people so they can shape their own lives," says Jack Watts, Group CEO Bastion.
"Our diverse team includes an incredible group of talented young individuals who worked remotely for two years – many of them in the formative years of their careers. Along with our robust HR policies, the opportunity to provide them with training to help them navigate the challenging parts of our industry is exceptionally important," Jack Watts added.
A Bastion Mentorship program for Reach Crew members will provide a taste of life working in an agency, with Reach team members mentored by four senior staff members across Bastion in Australia. Reach Foundation crew members will also embark on an internship at Bastion.
Reach Foundation CEO & Bastion Founder and Chairman Fergus Watts said the initiative would provide valuable experience and insights to crew members who often begin their careers in The Reach Foundation without prior experience in other workplaces.
"Obviously the connection between Reach and Bastion for me is completely intertwined, and to now make it an official partnership between both organisations is terrific. Exposure to senior individuals across a workplace like Bastion is priceless for our crew members who are exceptional facilitators and building other skills in their developing careers. I. know our facilitators will seize the opportunity to build both workplace knowledge and life skills through this unique opportunity. Just like I did developing as a Reach Facilitator two decades ago before starting Bastion" Fergus Watts said.
One particular area of Bastion's expertise that Reach will be able to benefit from is Bastion Reputation, with media training sessions available for the Reach Crew.
"The ability for Reach facilitators to draw on the expertise of our Bastion Reputation business for media training will equip them with important skills as the face of our organisation, helping to showcase and spread the word about our vital work," Fergus Watts said.
Additionally, all Bastion employees and Reach staff will be able to use each other's respective workspaces to expand and improve their understanding of the way the two organisations work for the duration of the partnership.
"Being close to people from different generations and different fields is always a good thing, regardless of what part of the agency you work for. You might meet a young Reach crew member at the beginning of their journey who might change the way you think, and ultimately, the way you tackle your own workload," Jack Watts says.
Reach CEO Fergus Watts added, "The benefits go both ways. By being physically in the same room as senior members of the agency, our Reach crew members will be able to draw upon Bastion knowledge to both build their skillset and life experience outside of facilitation skills and enhance their ability to support others in the workplace."
Expanding the benefits of the partnership even more broadly, Bastion clients will have the opportunity to attend 'Heroes Days' to learn about The Reach Foundation's work and potential applications of training to their business, workplace culture and mental health training, in particular for younger staff.