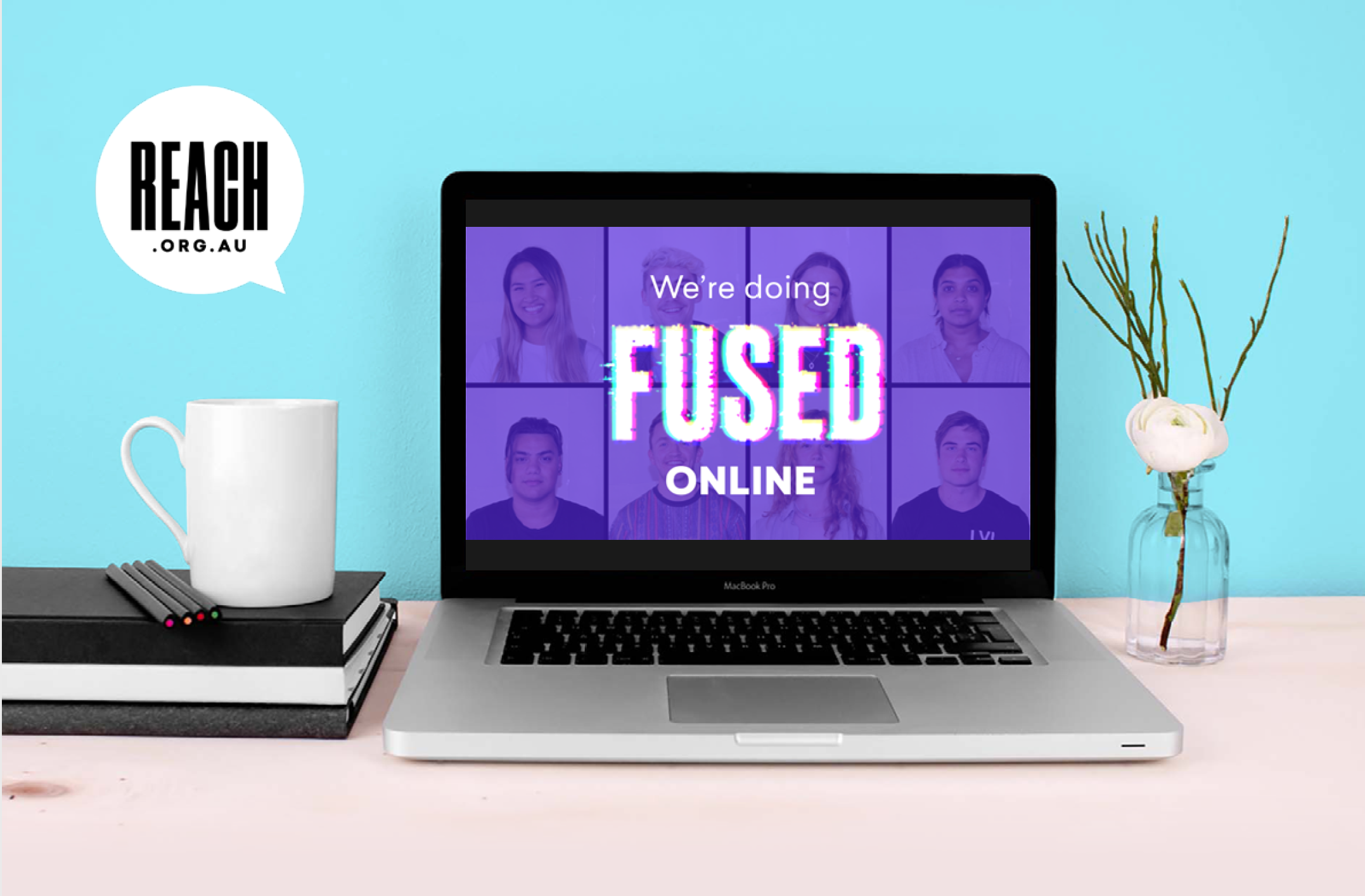 Preparing for Virtual Workshops
There are a few fundamentals that are core to Reach programs. In fact, we pride ourselves on them:

They're designed and delivered by young people – our Reach Crew.
They're designed as immersive experiences.
They're raw, authentic and we talk about real shit.
The wellbeing and safety of our participants is paramount.
They're face to face.
These fundamentals have over time become non-negotiable. However COVID-19 disrupted the world as we know it and we had to review how we pivot to continue supporting young people whilst not deviating from these fundamentals. And given that face to face delivery was not an option, we were presented with an opportunity to really transform and evolve our delivery model.
We intentionally did not switch to delivering programs online overnight, as we realised we had some work to do to ensure that we didn't compromise the safety and integrity of our programs. After completing a successful term of Fused Online, we're really proud of the work we've done to date and excited to deliver more programs online in the months ahead.
So what work did we undertake to safely deliver an online program?

First and foremost, we needed to review our wellbeing and child safety framework. From the outset, we agreed that this would not be compromised, if anything we would need to make the framework more robust. Below are some of the considerations our Wellbeing team undertook:
Determining the appropriate ratio of wellbeing support (i.e. psychologists / social workers) to the number of participants.
Develop a new risk assessment and set of protocols for content designed by the Reach Crew to be signed off.
Review existing policies and procedures i.e. Young Persons Wellbeing Policy, Code of Conduct, Child Safe Standards, Privacy and IT Policy.
Review of agreements and expectations of participants and their parents / guardians.
Develop mitigation strategies to manage possible risk factors amplified by online delivery.

In tandem with working through the wellbeing considerations, our Programs and L&D team considered how we bring an online program to life, whilst staying true to our fundamentals. Below are some of the considerations they undertook:
Determine the level of experience and accreditation level of the Crew required to deliver an online program. Would it need to be any different to face to face delivery?
Determine the appropriate platform – security, functionality and flexibility of breakout rooms etc.
Train the Crew on how to maximise the use of the platform to ensure we could create dynamic, interactive and experiential content.
Produce "how to" guides to make it a seamless and user friendly experience for the young people attending.
The listed considerations are just some of the work undertaken by our team to ensure we delivered a safe and authentic Reach experience to our young people. This has been a game changer for some of our programs; especially Fused which has always been place-based. We now have the opportunity to run this program and make it accessible to young people from all over Australia. Thanks to the work undertaken by our Programs and Wellbeing team, we now have a blueprint to apply to other online programs – which will very much be a feature of Reach's delivery into the future.For more information please contact Hannah Whittle (National Wellbeing Manager) or Mercedes Reed (National Programs Manager).