Media Statement – New alliance to support young people
Issued 2 September 2021
OUR YOUNG PEOPLE NEED MORE THAN MENTAL HEALTH HASHTAGS
Young people are grieving.
They're grieving the loss of normality. The loss of everyday routine and experiences. Seeing mates. Going to school. Family catchups. Camping on the weekend. Celebrating milestones. They're grieving the loss of everyday, incidental connection. They miss being kids.
We are a newly formed Alliance of eight mental health and wellbeing school providers in Victoria who support almost 300,000 young people each year. Traditionally, we have been viewed as competitors. But now, we have united with a deep concern for young people and an urgent necessity to work together to support them.
We have all seen the stats and we shouldn't shy away from them. 74% of young people are reporting that their mental health is worse since the outbreak of the pandemic (headspace, 2021). 70% say the pandemic and response has negatively affected their social connectedness (AIHW, 2021), while the number of teenagers presenting to emergency departments after self-harming continues to spike.
But in our work, we see through stats and percentages. We're seeing young people utterly up against it. We don't judge as they turn off their cameras because they can't face seeing themselves, yet again, on a screen. We listen as young people tell us that they're grieving the loss of their childhood. And we see how bloody incredible and resilient they are.
In the past few weeks, the silence on what is being described as the 'shadow pandemic' has been well and truly lifted, but certain reports by journalists and social media influencers are causing more harm than good. Yes, we need to have honest conversations about the realities facing young people right now, but we need to ensure that the conversation being had is done responsibly, not sensationally. Young people need to know that we are here to fix this, not just shine a light on it. They need hope. They need to know that we can rise to the challenge and support their needs. They need more than just words and hashtags.
Which we're here to do, but we can't do it alone.
Collectively, our Alliance is working around the clock to cut through the noise and bombardment of social media to properly address the grief and loss that young people are feeling.
But we need our state and federal governments to back us and our media to work responsibly with us. This is how we can arm young people with the skills that they need right now to get through this, whilst ensuring that we have the adequate resources to meet them where they're at.
While businesses all over the eastern seaboard struggle to keep afloat, the reality is that organisations like ours – who have supported young people for decades – are at risk of closure following a collective loss of $2M in revenue from schools since May 2021. That's at least 150,000 school students that we have been unable to support during this period.
If general practice surgeries hadn't been supported to pivot to telehealth, how many would have been forced to shut their doors? If we close ours, the social cost will be enormous.
But while we lobby for more support, we also continue to do the essential work that we are best equipped to do. We will bring our services together for the first time to meet the variety of challenges that young people are facing right now. To find out more about the Alliance, head here.

But this won't continue for long if we have to keep reducing hours and laying off staff, the majority of who are young people, who themselves are struggling. Our organisations have been forced to constrict in ways that threaten our ability to support young people when they need us most.
So, the next time the 'shadow pandemic' is spoken about, we ask that you highlight the problem while also taking responsibility for the solution. Direct anyone worried about the young people in their life and young people seeking support to us. Spread a message of hope rather than despair. Donate to our organisations. Lobby your local member to ensure that we can continue our vital work. We're not giving up.
Hashtags are not enough right now.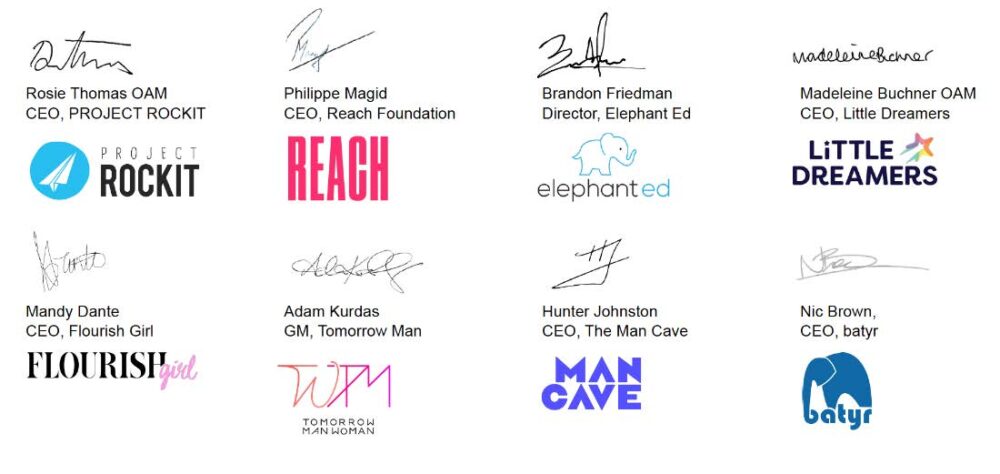 On Tuesday 7 September Reach will kick off with the first of several new initiatives from the Alliance, presenting a live Q&A to explore how parents, teachers and carers can best support the young people in their life throughout this difficult time.
Join Reach's National Wellbeing Manager and Psychologist Hannah Whittle and Senior Facilitator Telaine Cowdrey. This free event is open to all, including media. Book now!
<ends>
For media enquiries contact:
Rosie Thomas OAM
Co-founder / Co-CEO
Project Rockit
0430 387 957
rosie@projectrockit.com.au
Philippe Magid
CEO
REACH
0425 752 636
philippe.magid@reach.org.au