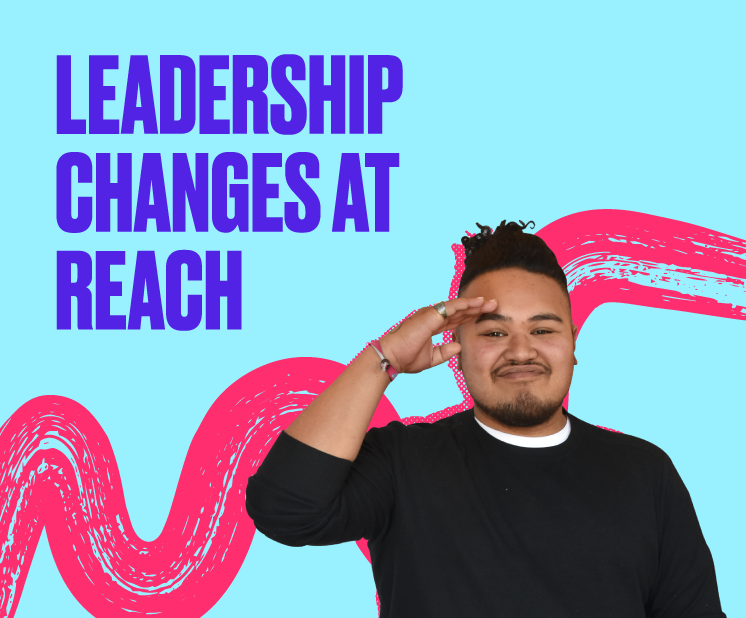 Leadership Changes at Reach 
We often share stories with you about our Reach Crew – the young people who are at the heart of Reach. They are a collective of extraordinary young people making a difference to the lives of young Australians every day. Supporting them is a tribe of people who help keep Reach on track and ensure we deliver on our vision of generations of confident, self-aware and passionate young people shaping the world.   
 At the end of 2018 we welcomed back Sasha Lawrence (former Senior Facilitator) as our Acting CEO. As we rolled into our 25th anniversary year, it was time for us to make some decisions that would set us up for the next chapter. And so, we would love to introduce you to some of the people who enable our Crew to design and deliver the inspiring workshops we create for young people.  
Board changes  
Chris Wilson

 

Stepped down as our Chair at the end of 2018 as he and his wife Mel and daughter Sienna welcomed their boy Archie into the world. Chris had been the Chair of Reach for several years and guided Reach with an immense amount of passion and dedication. We're super lucky that Chris has continued in his capacity as a member of our Board and the Chair of our Fundraising & Marketing subcommittee. 

Anthony Klein 

Succeeding Chris as our new Chair, is Anthony Klein (effective 1 January). Anthony had also served on our Board and was the Chair of our Risk & Audit subcommittee. 

Anthony

 has been a long time Reach supporter, having experienced Reach as a corporate supporter.  

 

Tom Imbesi

 

With Anthony stepped up as our Chair, we were delighted to announce that Tom Imbesi (current member of our Board) stepped up as the Chair of the Risk & Audit subcommittee.
In the coming weeks, we will also be launching two new board subcommittees: 
If you or anyone in your network would be interested in getting involved, please don't hesitate to give us a buzz.
Leadership Team changes  
We launched into 2019 with a newly structured organisation and introduced some new faces to the Reach Leadership Team (RLT).   
Anna McCann

Joined the Reach fam in February as our Chief Operating Officer. Anna joins Reach having been on the Board of Smiling Mind and was previously the Head of Pro Bono at Baker & McKenzie. Anna leads our Services team (Programs, Wellbeing and Learning & Development) as well as our Business & Strategy functions.

 

Tyler Juel

Joined the Reach fam in April as our Head of Fundraising & Marketing. Ty joins Reach with a wealth of experience and is a proud "career fundraiser", having previously worked at 

Barnardos

 Australia and Redkite. Tyler leads our merged Fundraising and Marketing teams.  

 

Katie Wyatt 

and

Kim Smiley

Continue in their roles on the RLT as the Co-Directors of Wake by Reach, our social enterprise that brings the work we do with young people into workplace.
Excitingly, we also introduced 2 key roles to the Reach Leadership Team:  
Telaine Cowdrey 

A Facilitator at Reach in Victoria who got involved with Reach when she was 16, Telaine

 was one of the first participants we ever worked with in NSW and is also our Indigenous & Diversity Programs Coordinator. 

 

Harry Morton 

A Facilitator at Reach in New South Wales who also got involved with Reach when he was 16. Harry is one of our lead facilitators of our Thousand Faces Camp and is a jack of all trades at Reach – facilitator, L&D, programs support and occasional marketer.  

 
Telaine and Harry play a critical role on the Reach Leadership Team, ensuring that all decisions made at Reach are youth-led and backed by our Crew. We don't just pay lip service when we say we're youth-led. Harry and Telaine represent our 200+ crew and are on the frontline working with young people everyday and play a critical role in shaping the future of Reach.
Being more than half way through 2019, we're excited about the team leading Reach. They're diverse, passionate about young people, experienced professionals and good humans!