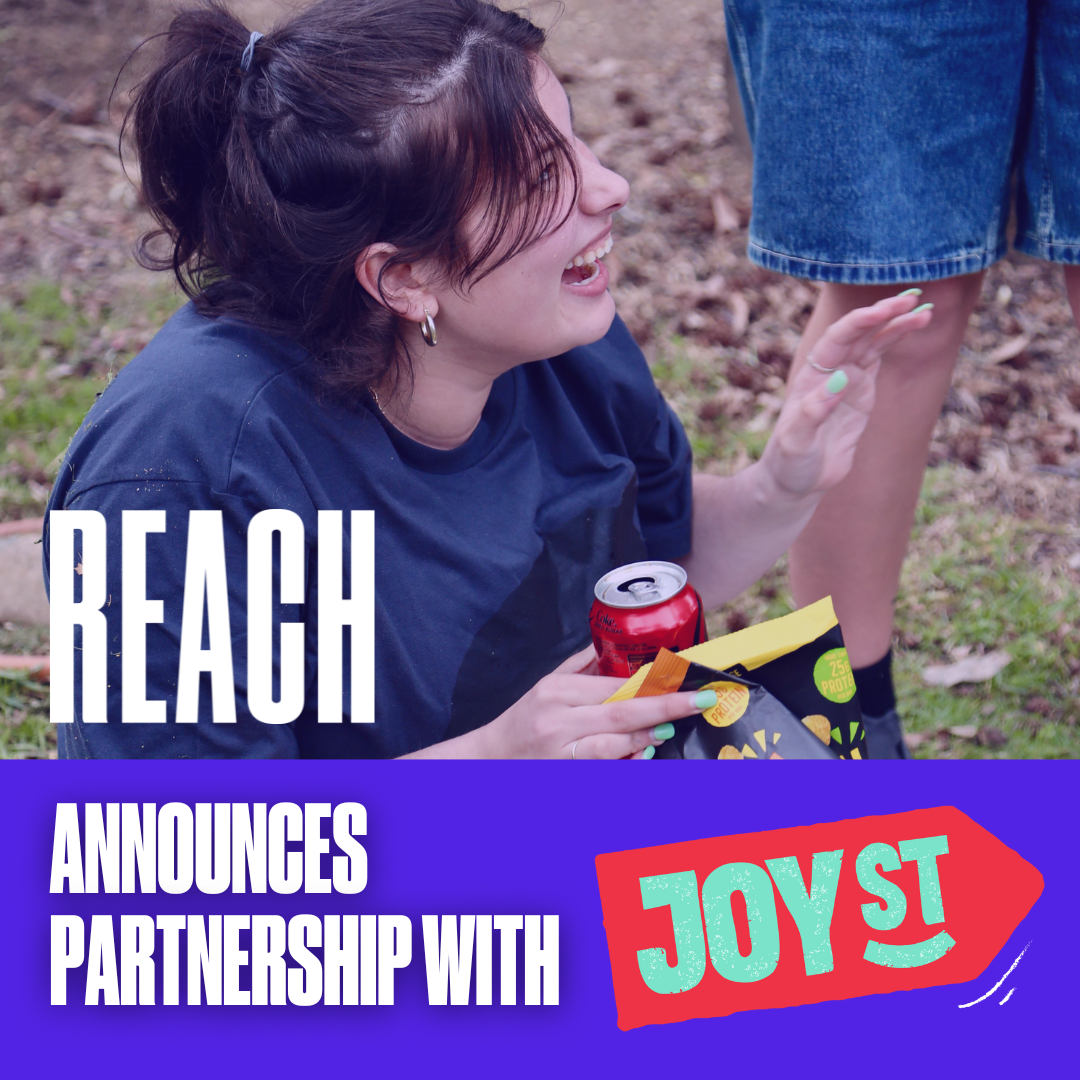 THE REACH FOUNDATION AND JOY ST ARE PROUD TO BE JOINING TOGETHER TO UNLOCK THE POWER OF YOUNG PEOPLE SO THEY CAN FIND THEIR OWN JOY.
The partnership provides more crew development for The Reach Foundation which enables staff to continually grow their skills in order to benefit young people all around Australia.
Joy St is supporting The Reach Foundation (Reach), a national charity delivering transformative experiences to young people, as part of its commitment to creating more joy and unlocking the power of young people so they can shape their own lives.
Reach programs are designed by young people, for young people. The support of Joy St will see these programs continue to grow and bolstered by strong crew development.
All Reach crew and facilitators go through extensive training to ensure they are equipped with the skills and knowledge to help transform young people's lives. Joy St's support will empower Reach's young facilitators to further develop their skills to help young people across Australia.
Reach is excited to have Joy St onboard as an official partner and the sole partner of our upcoming Heroes Day in Geelong.
"As a brand, we're all about spreading and sparking joy in people's lives. We're very excited to be on board as an official partner of The Reach Foundation for some of their upcoming events and projects. There's no better time like the present to support and bring some extra fun into the lives of young people." Chris Diver, Managing Director, Good Food Partners
Heroes Day Supported by Joy St
Where: Geelong
When: 18th October
More details coming soon
About The Reach Foundation
The Reach Foundation is a not-for-profit organisation dedicated to inspiring young people to be themselves and to build better connections – with themselves and others. There are currently over 4 million young people living in Australia, and Reach works with over 40,000 of them a year. The Reach Foundation invests in young facilitators to design and deliver transformative experiences for young people. Reach workshops are 100% led by young people. They design it and deliver it. They're armed with the kind of insight only a young person can truly grasp.
About Joy St
Take a tasty trip down Joy St and snack proud with no guilt or compromise. Surprisingly better for you, with wonderfully moreish, grown-up flavours, Joy St have put the fun back into snacks for everyday en-joy-ment.