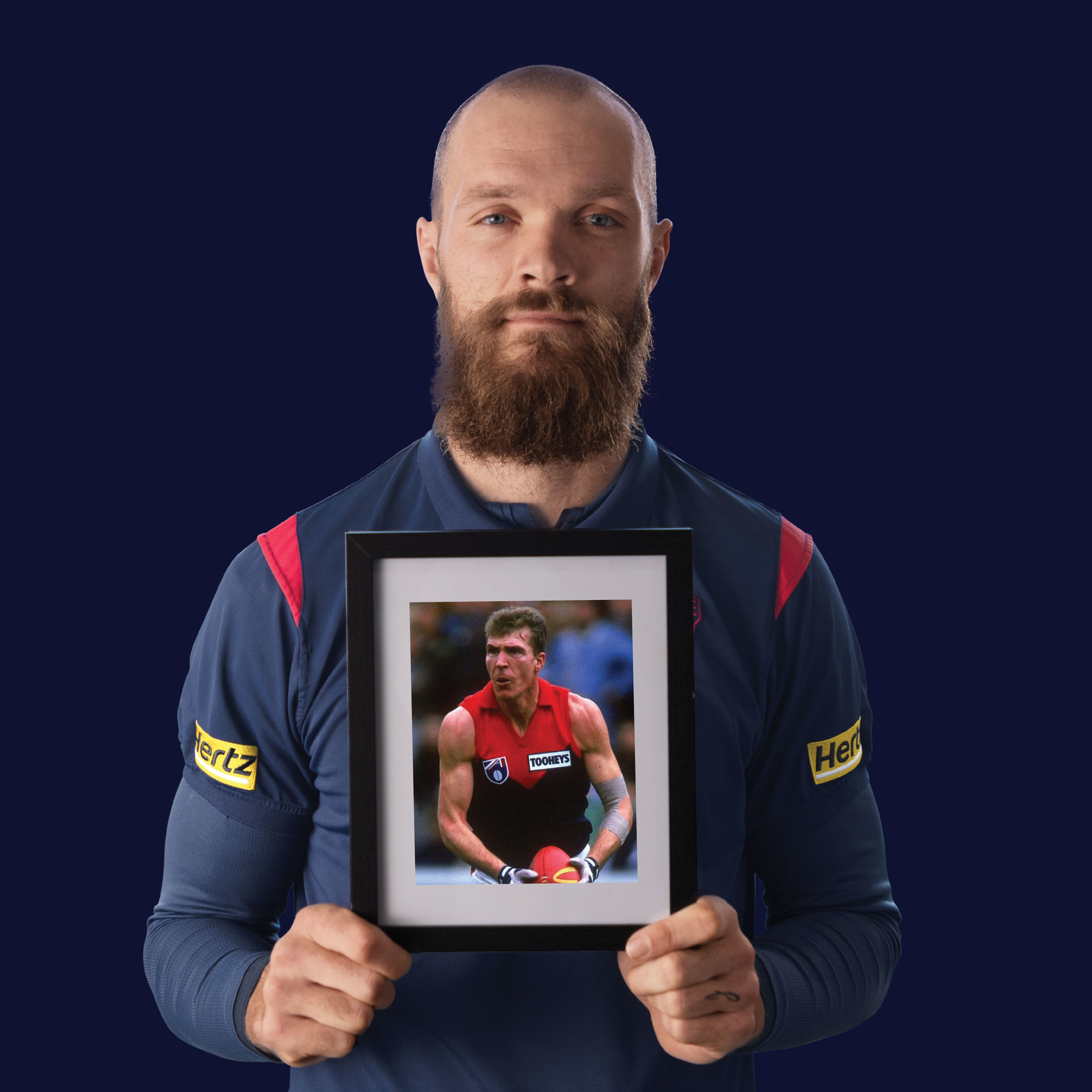 Jim's legacy returns to the MCG in Round for Reach

He was a champion footballer who transformed the lives of thousands both on and off the field, and on 5 August the legacy of the great Jim Stynes will return to the MCG when Melbourne Football Club and Collingwood battle it out in this year's Round for Reach.

This year's match will mark the 10th anniversary of Jim's passing, with more than 70,000 fans expected to pack the MCG to commemorate his life and legacy. Once again Australians will be asked to 'Be Like Jim' and help raise funds for the not-for-profit Jim co-founded – The Reach Foundation – Australia's most influential youth organisation leading the charge preventing mental ill-health among young people.

For Melbourne Football Club Captain Max Gawn and Reach CEO & former AFL player Fergus Watts, they know the importance of continuing Jim's legacy after experiencing the life-changing work of Jim Stynes and the Reach Foundation first-hand.

"Jim had an impact on me from the beginning," Gawn says.

"He was the first person I met when I was drafted to Melbourne and my first mentor at the club.

"I was young, trying to be an adult and trying to find my way in the world. Jim was there to help me through it all.

"He said it me, it's okay to be different and do things differently to others, as long as you tick off some important values along the way.

"That moment changed me. Jim taught me the balance and the values that have helped me become the man, the father, the husband, the son and the captain I am today."

Watts first experienced the magic of Reach directly from Jim Stynes himself at a workshop 22 years ago, when he was just 15.

"Jim picked me out from the crowd, pulled me up on a chair and asked me 'who are you'? And I couldn't answer it. But he believed in me – and that's what mattered," Watts says.

"From that day on, I began a journey of self-discovery at Reach which gave me the foundation and resilience to navigate the next phase of my life as an AFL football and entrepreneur.
"We must continue Jim's legacy by building on his vision of believing in young people and giving them the power to shape their own lives – like he did for me all those years ago."

With four out of five young Australians experiencing mental health issues over the past two years and one in four reporting suicidal thoughts, Australia is facing a youth mental health crisis. Reach's vital, preventative work has potential to move the dial on this crisis.

Rather than waiting for mental ill health to manifest, Watts says the only effective, long-term solution is a focus on the promotion and prevention of mental health in young people by giving them the tools to navigate life's challenges and thrive.

"We need capacity building earlier in life with wellbeing at its core – and that is the basis of the Reach model," Watts says.

"Jim felt that the only true way to set our young people up for life is to equip them with the social and
emotional skills they need to live a complete life – and that's what we continue to do here at Reach."

This year's Be Like Jim campaign is once again asking Australians to believe and invest in young Australians by donating $11 (Jim's jumper number) to Round for Reach in 2022.

All funds raised will go towards continuing Jim's vision through the vital work of The Reach Foundation.