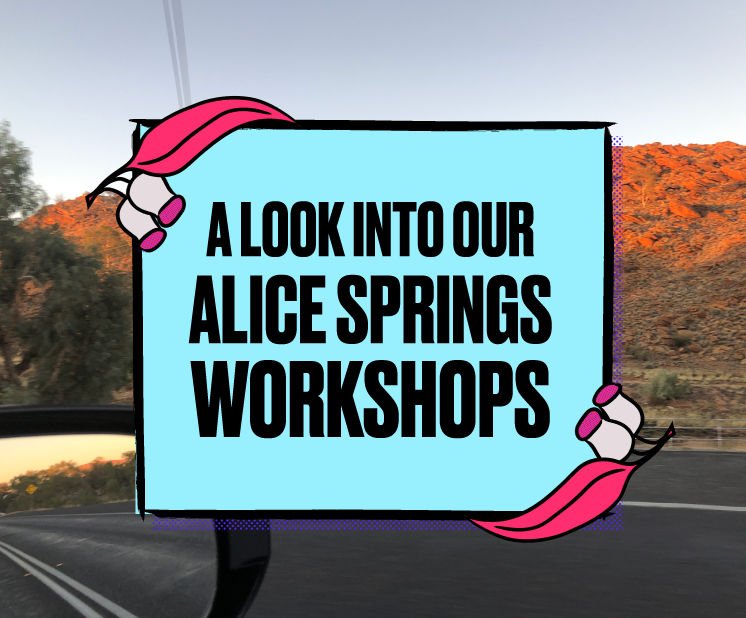 A Look Into Our Alice Springs Workshops
Please note before reading this: there is some heavy content that is discussed, specifically involving suicide. 
To be on the indigenous team is such an honour.
As a young person it looks and feels glamourous to get flown to Alice Springs 3 times a year to apply our craft, but remote and regional work is the hardest of hard.
The young people in Alice Springs are some of the most economically challenged. The transgenerational trauma is intense and the reality of their world is hard to come to terms with.
Returning to our comfortable life after these Alice trips is like being hit by a truck.
Last year, 3 days before our arrival, a teacher attempted suicide.
His name was Quinny.
Quinny was a part of Clontarf – A mentoring program for Aboriginal and Torres Strait Islander fellas which supports them in class, before and after school, in sport and anything else the fellas need to get through school and their lives.
Quinny noticed a gap in the teaching staff within Alice Springs and moved into teaching so that he could continue to build solid relationships with all young people in the classroom. Quinny was very open with his mental health and decided to communicate with the community and the young people that he would need to take some time off to face into his demons.
Quinny's life support had to be turned off the morning we arrived, leaving the team to hold space for the year levels he worked the closest with, and attending a memorial and smoking ceremony of the school.
A month later our team went out again and the community had just lost the last language teacher in their community, she was an aboriginal woman who was many of the young people's Aunty, grandma and mentor. Again, the team held space courageously and again attended another memorial and smoking ceremony.
In December last year and January this year, Alice lost another 2 young fellas to suicide. They had both just completed Year 12 and this has completely rocked the young people across all year levels and the community.
On this trip we worked with the people closest to them. Their siblings, their cousins, their teachers and their peers.
Suicide claims 1 life a week in Alice Springs.
It is something that the young people are so accustomed to. Something they are reminded of every day – and every day they find a way to be strong. To continue to come to school and continue to be so open, honest and courageous in our workshops.
Alice Springs has had multiple youth suicides in the last 2 years, the youngest being 8 years old.
In June 2018, the findings of the Royal Commission into youths in detention in the NT were confronting. 40% of houses in rural areas are impacted by overcrowding, and 100% of young people in detention being are of Aboriginal and Torres Strait Islander background.
The NT Department of Education is about to finalise their decision to remove the 4 wellbeing professionals from the schools we ran workshops in. They are contracted to service another 25 schools meaning they will have to service schools up to 10 hours outside of Alice. If a young person is in crisis and the wellbeing professional is unable to make it to them in time, the NT government would like them to do Skype sessions with the young person. And they want young people to self-refer. The state government is expecting teenagers to fill out 3 forms (paperwork the wellbeing professional is meant to complete) before they can seek the help they need.
It's horrible.
When we were there, lots of people in the community stressed to us that their young people are dying at a rapid rate. They let us know how important our spaces and workshops are for the young people. To give them the opportunity to talk about the stuff they don't normally get to talk about. To explore the relationships they have with each other and with themselves. And to come out stronger and more in touch with who they are.
It's a privilege to facilitate this self-discovery for a community that benefits from it more than any other in this country.