Reach workshops are designed to be interactive, with students being actively engaged at all times; they are not presentations. As achieving the outcomes of our workshops depends on student participation, it is vital that all students feel safe to contribute in a confidential and accessible space.
CHOOSING YOUR SPACE
Generally, Reach needs a large, open, carpeted classroom, with enough chairs for all students. The room needs to be large enough to comfortably seat students in rows of chairs with a space in front for the facilitators to speak. The space should be enclosed, with minimal interruptions; students and/or staff who are not in the workshop should not be entering/moving in and out of the workshop space.
Below is an annotated diagram of how the space should be set up: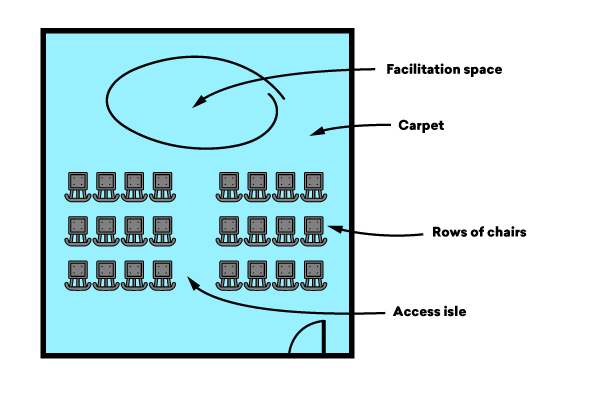 HOW YOU CAN HELP CREATE AN OPTIMAL ENVIRONMENT
Remind students to put their phones on silent/away in their bags
Close or seat students away from windows if it's noisy outside.
Communicate with other staff and/or put a sign on the door/s of the workshop space explaining the need for a quiet space with no interruptions.
Ensure there is enough seating for all students and staff.
WHY IS THE RIGHT SPACE IMPORTANT?
Engagement and connection
Our sessions are far from anything 'presentation style' and one of our main goals for each session is to have interactive participation from every single student.
Having a smaller number of students enhances facilitators ability to engage with each student, and for as many students as possible to speak up and contribute.
The number of students per workshop is capped to ensure maximum engagement and impact.
Rapport is built more quickly and effectively when students are seated in chairs; our facilitators stand and move around the room during the workshop, and having students at a similar height promotes a more equal power dynamic between students and facilitators.
Safety to be open and honest
Confidentiality is vital to creating safety in our workshops; in order to speak openly and honestly, it's important that students feel comfortable that they cannot be overheard by others who are not in the workshop.
Mobile phones should not be in use during the workshop, to ensure that conversations in the workshop are not recorded and/or distributed.
Windows and doors should be closed.
Staff and staff and students who are not in the workshop should not be present and/or moving in and out of the workshop space.
Accessibility and comfort
A quiet and comfortable environment enhances the ability of all students to hear and attend to the workshop, particularly students who are neurodivergent, hard of hearing, or those with sensory processing issues.
The space should be carpeted to ensure the best possible acoustics and reduce noise levels.
Chairs are generally more comfortable and accessible than sitting on the floor, particularly for students who use mobility aids.
WHAT IF YOU DON'T HAVE THE IDEAL SPACE?
We understand that no space will be 'perfect', and we are happy to work with you on creative ways to enhance the space you do have wherever possible.
If you have any questions or concerns about your space or any of the requirements above, please contact a Reach Education Manager:
VICTORIA
NEW SOUTH WALES